San Marino. 24 hours exploring a Micronation.
I've put together an easy to follow guide all about how to spend 24 hours in San Marino.
On my quest to visit every country it's taken me to some unique corners of the earth and if you happen to be doing the same, I'm sure a trip to San Marino is on the cards very soon.
San Marino is a micro nation landlocked within Italy close to the Italian coastal city of Rimini.
It's rather easy to get to and you might be stuck in what to do, so i've put together this guide to help you out with some suggestions.
How to get to San Marino

(Head to Rimini train station)
To get to San Marino, you must first reach the city of Rimini in Italy.
Rimini is in the Emilia Romagna region of Italy and has many daily train connections from Bologne.
Bologne has a well connected airport to the region or you can fly into Venice or Pisa and then get a train to Bologne to get a train connection to Rimini.
Once you reach Rimini you can find a bus connection to San Marino.
Buses depart hourly, so do keep an eye on departure times.
The cost for a one way bus ticket is €5 from Rimini.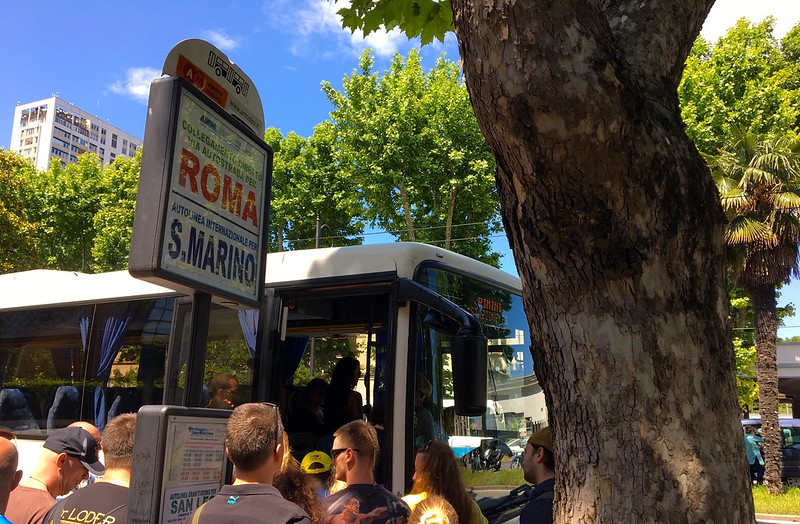 You can find the bus stop across the road from the train station on the right, its outside a hotel and clearly a market with big blue capital letters "San Marino"
You can also watch my YouTube video below which will follow you through the whole journey, step by step.
What to do in San Marino
The public bus will take you to the fortress walls, the most popular spot this micro country.
Walk from here up to the hill where you will discover an entrance guarded by a well dressed traffic warden who signals the traffic to stop so you can walk in safely.
Within the walls you will find loads of little back streets and narrow roads, how locals drive cars around San Marino's cobbled streets I have no idea, but they do!
San Marino is a cosy little hillside, country, walk around, explore, get lost and enjoy the experience.
You will find many tourist shops along the way, skip these unless you want to purchase a unique San Marino post card with a San Marino postal stamp to post in a San Marino post box (only in San Marino!)
Head straight to the square which has a stunning view point.
You can access tower one and tower two which both make good viewing platforms and have much to explore.
You can also grab a cable cart which can be a fun experience with stunning views. From hill top to below, here you can find the a unique designed church worth checking out.
But of course San Marino is most famous for its spectacular view from the mountain top and you can look for miles around and see it all in its beauty from high up. its a breath taking experience.
Where to eat in town
In the evening I wanted to find something unique and special and La Fratta popped up as a must visit.
For under €20 you can enjoy a 3 course seafood experience and I found this to be most appealing. I'm a big fan of seafood and was excited to try all the dishes on offer.
Once I walked in I could see it was a popular spot for regulars to go to and smiles could be seen all around.
The staff were super friendly and full of information on where the ingredients were sourced and had a host of tips and advice with what wine went best with which dish.
Had a wonderful journey of flavours and a lovely dining experience at La Fratta. A must try for sure if you want to treat yourself and enjoy a night in San Marino.
Where to stay in San Marino
For one night I stayed at Hotel Rose located in the historical city centre. Was easy to get to and a great location, especially if you can get a room with the view overlooking the city and the surrounding landscape.
Breakfast was included and I found this to be a most enjoyable experience as I wasn't expecting such as unique interesting breakfast.
Every country I visit has something to uniquely to offer and in San Marino its very common to have a sweet fix first thing in them morning with a cappuccino.
I was surprised to find jam cakes and sweet biscuits on offer, how most interesting indeed. Fun to try different cultural foods.
Don't miss a San Marino sunset
A little inside tip, a lot of daily visitors to San Marino don't stay in San Marino, they normally pass by as part of a day coach trip.
This means around 17:00-18:00 you pretty much get the whole country to yourself after a majority of the buses have departed.
For photographers and sunset enthusiasts, this makes a perfect reason to stay for the night and enjoy a stunning San Marino Sunset.
Head to the main square, grab a glass of local wine and watch from the mountain top as the sun sets around the valleys below.
It's truly breathtaking and with less busy crowds it can be a most enjoyable experience and one reason to stay over at night and spend 24 hours in San Marino.
Grab a passport stamp

(It's a pretty unique passport stamp)
One unique experience is to get yourself a San Marino passport stamp.
If like me you're trying to visit every country around the world, collecting passport stamps can be a rather fun hobby.
All you simply have to do is head to the San Marino tourism office located next to the cable cart and here you can get your very own San Marino passport stamp.
The fee is €5 per stamp and you get a unique hologram stamp that does look pretty cool and will stand out in your passport.
This stamp is way better than Lichenstiens stamp which is literally just an ink stamp, at least San Marino has tried to make the experience a little more special.
Thank you for reading my blog post.
Thank you for reading my blog post, I hope you found it useful.
If you have any further questions, I'm very happy to help. You can leave a comment below in the comment section of this blog post.
Check out my YouTube video